PIP
Can/Am CH Affinity Great Expectations WCI JH
(May 30th, 2004)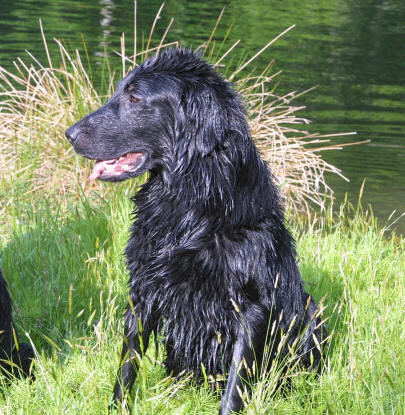 Pip is a very special young dog. He is a grandson of both Aspen and Charm and carries the best of his parents and grandparents. Slow to mature, we delayed his show career and focused on his obedience and field work instead. There he shows tremendous potential, earning his WC at the age of 14mos and his JH at 15mos. He added his WCI in July 2006. Although he has been progressing well with his WCX and Senior Hunter training, other life circumstances have interferred with a consistent training schedule. Pip is willing to try anything I ask of him. Like his mother and his grandmother, he loves to work and tries very hard do everything right. Pip is very birdy....almost to a scary degree. More than once I have had to stop him from swimming into the strong currents of the Fraser River after a duck or goose.
In the show ring, Pip is a real ham. He loves to stack himself up and play at being a "show" dog. Once we started showing, Pip finished his Canadian championship in 2 weekends. He has 3 majors towards his American championship including two 5pt wins in one weekend.....from a supported entry and under a Flatcoat breeder-judge.
Pip is truly a canine gentleman and joy to live with. Although a food thief like most Flatcoats, Pip is inclined to come show me the fruits of his pilfering rather than quickly swallowing them. I'm not sure if it's because he can't help showing off.....or if he feels guilty because he knows he shouldn't counter cruise. Either way, the sheepish look on his face is very disarming and can't help but make us smile.
Pip's Photo Gallery