CHARM
CH. Crossraguel Charms Affinity CD WC, Am WC
(February 28, 1997 - December 2, 2008)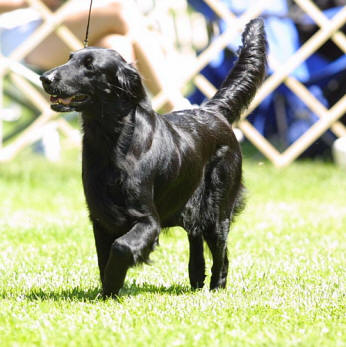 Charm was the only girl in her litter, but that didn't stop her from stealing all the toys from her 5 bigger litter brothers. That still holds true today. Charm still thinks all the toys should belong to her!!
But in every other way, this charming girl lives up to her name. Charm always tries very hard to do the right thing....whether it be during training and working, or just in everyday living around the house. She is extremely intelligent. It seldom takes more than one or two repetitions for her to learn even the most difficult of exercises. This became clearly evident when Charm learned to do the obedience 'drop-on-recall' exercise by watching other dogs practice it.
Charm has an extensive vocabulary to express her excitement and wants. Although not a noisy dog, she has mastered many variations of the Flatcoat 'arrooo' and uses them regularly. She has an absolute requirement for daily tummy rubs. Charm will often greet visitors by laying on her back at their feet so they can't avoid rubbing her tummy. It's irresistable and she knows it!!
Charm is also my favourite bed puppy. She loves to stretch out and lie with her back against you, and at other times, to curl up in a small ball near your pillow. She has a quiet and gentle way about her which makes it so easy to cuddle with her. There is something very relaxing about some quiet time with this sweet and wonderful dog.
Charm's Photo Gallery